In December's 2012 Issue
12/08/2012 14:32 ● By Brian O
Celebrating the Holidays Tech Style
December's issue offers lots of great holiday shopping ideas for both the tech-happy and even not-so-techy family. This gift guide offers games, apps and accessories that really bring the fun for kids! From Geocaching to Plants vs. Zombies, we have you covered.
For the book junkies, we have some nice Holiday options to check out in Read-and-Play feature, as well as a fun hands-on craft project for those slow winter-break days.
If getting outside for some winter fun is you bag, check out "Stargazing As a Winter Family Hobby" written by freelance writer Carla Knipe.
If you're looking for things to do in and around Lane County, check out our Event Calendar for some great holiday fun. Here is a sample of what you find...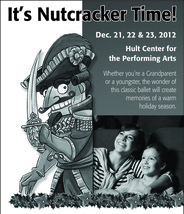 The Nutcracker
Friday, December 21, 2012 | 07:30PM
Enjoy Clara's journey with spirited party children, mischievous mice, elegant skaters, and dancers from around the world in the fantasy world of the Land of The Sugar Plum Fai... Read More

Singin' in the Rain
Saturday, December 01, 2012 | 07:30PM - 10:00PM
Late 1920s Hollywood is the setting for this zany, light-hearted romantic comedy about the early days of sound film – faithfully adapted. The Shedd, Fri/Sat 7:30-10:00pm, Ph 4... Read More
Holiday Marketplace
Monday, December 03, 2012 | 10:00AM - 03:00PM
Shop the Holiday Marketplace for an amazing array of handcrafted gifts and homemade delicacies. You'll find one-of-a-kind woodcrafts, ornaments, decorations and stocking stuff... Read More 
Winter Solstice Celebration
Friday, December 14, 2012 | 05:00PM - 08:00PM
Listen to live music with Suzuki Strings, watch Lion Dancers perform, see a Marionette Show, learn about Greek Myths and Constellations, create crafts. 5-8pm, FREE w/ canned f... Read More